Nate VanDerVeer stresses the importance of maintaining adequate levels of automobile insurance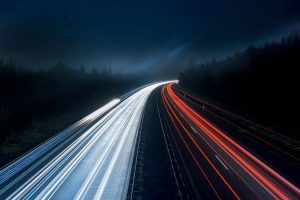 Auto insurance is typically something we all pay for every month, yet rarely give a second thought – until we are in an accident.
From Mobile to Huntsville, Tuscaloosa to Columbus, Birmingham to Montgomery, Alabama has thousands of miles of roadways. On any given day, Alabama roadways are used by the state's 3.7 million licensed drivers, each of whom drive an average of 13,516 miles a year. Alabama's drivers are involved in thousands of traffic accidents every day, including many that result in serious injury or death.
Wherever you live and drive in the Heart of Dixie, carrying adequate car insurance is both a legal requirement and commonsense protection.
"Our firm only litigates auto injury claims where liability coverage is sufficient…"
How Much Car Insurance Do You Really Need?
Alabama state law requires you to carry a minimum amount of car insurance. Failure to do so can result in severe penalties that may include monetary fines and jail time.
However, according to Goldasich, Vick & Fulk personal injury attorney Nate VanDerveer, "A $500,000 minimum in comprehensive property and bodily injury coverage is a good starting point for most people. I can attest that our firm only litigates auto injury claims where liability coverage is sufficient. Insurance policies exist to cover the defendants wrongful conduct in the event of an auto or 18-wheeler accident."
"Insurance policies exist to cover the defendants wrongful conduct."
Car Insurance Terms Explained
Deductible
The deductible is the portion of the damages you'll have to pay for before your coverage kicks in. Let's say you have a fender bender and the repairs cost $2,500. If your deductible is $500, all you have to pay toward that repair is $500. Insurance would cover the remaining $2,000.
Auto insurance deductibles typically apply per claim. So, if you have another fender bender two months later, you'll have to pay your deductible again. But, in most cases, $500 is a steal compared to what could potentially have to come out of your pocket!
On the other hand, if you have a $1,000 deductible and only need $750 worth of repairs, you're responsible for the entire amount because the repair cost doesn't exceed your deductible.
You will likely have two different deductibles under your auto insurance policy—one for collision and one for comprehensive coverage.
Car Insurance Premium
A car insurance premium is simply the dollar amount you pay for your coverage. Depending on your insurance company, you may pay monthly, quarterly, semiannually or even annually. Car insurance premiums can vary based on things like your deductible, your age, the make and age of your car, your driving history, and the type of insurance you purchase.
Coverage Limit
Your coverage limit is the maximum amount your policy will pay for each type of coverage you have. Work with your agent to make sure you have the maximum amount of coverage. If you exceed your policy's limits, you'll be responsible for any remaining costs.
No-Fault and At-Fault
Currently there are 12 states with no-fault insurance laws. In these states, your auto insurance automatically pays toward your claim for medical payments for you or your family, up to a certain limit, regardless of whether you're at fault or not. The other 38 states are at-fault states—which means someone must be deemed "at fault," even if it appears that both drivers are equally responsible for the accident.
Types of Auto Insurance Coverage
Liability coverage
Though liability coverage doesn't protect you or your car, it does protect your wallet! If you're in an accident that's deemed "your fault," liability insurance covers third-party costs you'd typically be responsible for—medical or auto-repair costs that others might sustain due to the accident.
So how much liability insurance should you have? That can be answered in two words—a lot! Even if your state doesn't require liability insurance, it's a good idea to have at least $500,000 worth of coverage that encompasses both types of liability coverage—property damage liability and bodily injury liability. That way you're covered for costs related to getting the other driver's car fixed (property damage) as well as costs related to their lost wages or medical bills (bodily injury) that resulted from an accident where you're at fault.
Without liability coverage, you would be responsible for paying the other driver's property damage and bodily injury costs out of your pocket. That could put you at serious risk financially—and potentially even cause your future wages to be garnished until the damages are paid. No matter what kind of car you drive, liability auto insurance is a definite must-have.
How does your liability insurance coverage break down?
When looking at your auto insurance coverage limits, you may see something like $250,000/$500,000/$250,000 or 250/500/250 for your liability coverage.
Here is how your liability car insurance coverage would break down:
$250,000 of coverage for bodily injury (per person)
$500,000 of coverage for bodily injury (per accident)
$250,000 of coverage for property damage (per accident)
Comprehensive coverage
Remember that hail storm last year that left a lasting impression on the hood of your car? Or that time your car wasn't where you parked it because someone else decided to claim it as their own? With comprehensive coverage, you're covered! Whether it's theft or damage from a fire, a storm, a natural disaster, or even a limb falling on your car, comprehensive coverage will pay to replace or repair your car as long as the damage isn't due to a collision.
Like liability insurance, comprehensive coverage is inexpensive—so you'll want to have it whether you're driving a beater or a brand-new car.
Collision coverage
Whether it's the kids screaming in the back seat that makes you hit the brakes a second too late or the black ice that turns your sedan into a slip and slide . . . accidents happen. The good news is, no matter who is at fault, collision coverage pays to repair or replace your car if you're in an accident with another vehicle, object, or even yourself.
You may be wondering, But what about liability insurance—wouldn't that cover any damage to my car? The answer: Only if another driver is at fault and they have enough liability insurance to cover the damages. That's why nearly 70% of drivers make the decision to purchase collision coverage.
Let's say your car is totaled in a wreck that happens to be your fault. The other driver's liability coverage (if they even have it) won't pay for your car repairs because they're not "liable" (at fault) for the wreck—you are. Without collision coverage, you'd have to pay out of pocket to repair or replace your own car. Ouch!
You may be tempted to skip out on collision coverage to save money if you drive a beater, but can you really afford to? If you're planning to retire your beater to the junkyard and have enough savings to replace it, opting out of collision coverage may be the right move for you. To be safe, make sure to consult with an independent insurance agent to find out if skipping collision coverage is a risk you can afford to take.
Our Auto Accident Attorneys Get Results
We believe that every case is an important one and that every client deserves personal attention, compassion and an attorney who will fight for your rights. No matter the extent of the injuries or the type of accident that you have been injured in, do not hesitate to get contact an Alabama personal injury attorney from our firm. Contact us today.