Product Liability And Furniture Tip-Overs: What You Should Know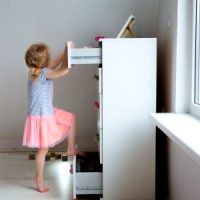 Consumer products can contain defects that may result in serious injuries, some of which pose an increased risk of harm to children. Some examples could include children sustaining serious injuries after swallowing small components of consumer products, such as batteries, or suffocation-related injuries associated with defective clothing or bedding. One common  product defect affecting children is furniture tip-overs . Furniture products are routinely recalled when they pose a serious tip-over injury risk to children. While a recent NPR report suggests that rates of furniture tip-over accidents have declined, they continue to affect consumers, especially children.
What do you need to know about furniture tip-overs and product liability claims in Birmingham? Our attorneys can tell you more.
Hundreds of Reported Tip-Over Fatalities and Thousands of Annual Injuries 
Furniture tip-over injuries are serious. According to NPR, thousands of injuries happen every year. Since 2000, a total of 581 deaths have been reported. About 80 percent of all furniture-tip-over fatalities affect children.
Furniture Companies Can Be Liable for Injuries and Deaths 
When furniture companies make and sell furniture products that tip over and cause harm, they can be held responsible for damages in a product liability lawsuit. While dressers and wardrobes are most associated with furniture tip-over accidents, other types of furniture can also cause harm and lead to liability. According to NPR, the Swedish furniture company IKEA paid $46 million to a family whose two-year-old died after a dresser tipped over and caused fatal injuries.
Tip-Overs Can Be Prevented 
It is important for parents and caregivers to know that furniture tip-overs can be prevented. What can you do to avoid a furniture tip-over accident? According to the American Academy of Pediatrics, you should do the following:
Ensure that all heavy furniture is secured or anchored appropriately to the wall;
Use metal anchors or "L" brackets to anchor heavy furniture since plastic brackets can weaken over time;
Use more than one anchor to secure heavy furniture;
Put heavier items in lower drawers;
Use safety straps or dresser drawer stops to prevent a child from pulling out drawers; and
Avoid placing a TV or other heavy objects on top of a dresser.
File Your Claim Within Two Years From the Date of the Tip-Over Accident 
In order to be eligible to obtain compensation by filing a product liability lawsuit, you will need to file your lawsuit before the statute of limitations runs out. Under Alabama law, most product defect claims must be filed within two years from the date of the injury. Accordingly, most furniture tip-over accident claims will need to be filed within two years from the date that the furniture tip-over occurred and caused harm.
Contact a Birmingham Attorney
 Furniture tip-over accidents can be devastating. If your child was injured or killed in a furniture tip-over accident, it is critical to seek help from one of the experienced Birmingham product liability lawyers at Goldasich, Vick & Fulk. Our firm can speak with you today about your case and your options for moving forward with a claim.
Sources:
npr.org/2022/02/03/1077996126/furniture-tip-overs-injuries-deaths-cpsc
healthychildren.org/English/safety-prevention/at-home/Pages/Preventing-Furniture-and-TV-Tip-Overs.aspx
oecd.org/sti/consumer/furniture-tipovers/
law.justia.com/codes/alabama/2006/3069/123537.html