Product Safety Recalls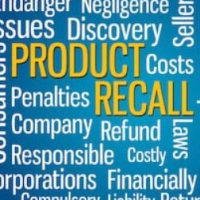 If you are concerned about injury caused by a potentially defective product, it is important to be aware of products that are often subject to safety recalls. While it is impossible to predict with certainty what types of products may be subject to a recall, you can learn about commonly recalled products and how to check for listed recalls to keep yourself and your family safe. If you do suffer harm from using a defective product, one of our Birmingham product liability lawyers can speak with you about filing a product liability lawsuit. In the meantime, the following represent the most common types of product recalls.
Food Product Recalls 
Food products are commonly recalled, often due to contamination or foreign substances. In some instances, consumer food products may be contaminated with bacteria such as Salmonella or E. coli. In other cases, consumer food products may contain contaminants such as plastic or glass from the manufacturing process. Food recalls can also occur when food products are found to contain trace amounts of nuts, such as peanuts, while being advertised as being made in a nut-free facility. You can check food recalls by visiting the U.S. Food and Drug Administration (FDA) website.
Dangerous Drug and Medical Device Recalls 
The FDA also publicizes dangerous drug and medical device recalls. Certain drugs and medical devices are commonly recalled because they contain materials or contaminants that are known carcinogens or potential causes for infection or disease. Drugs and medical devices can also be recalled because they are ineffective or because the manufacturer has failed to warn consumers about known risks associated with the drug or device.
Automotive Product Recalls 
Motor vehicles and individual auto components are recalled for numerous reasons, from exploding air bags to defective brakes. Defective auto products can vary in the level of danger they pose to individuals, so it is important to pay attention to any recall notice you receive in the mail or e-mail. The National Highway Traffic Safety Administration (NHTSA) is an excellent resource for auto product recalls.
Consumer Household Products Can Be Recalled 
Many types of consumer household products are subject to recalls, from furniture or appliances to children's toys. Recall notices can be researched from the U.S. Consumer Product Safety Commission (CPSC), and you should be mindful of potential defects and recalls when purchasing second-hand goods for your home or your child. 
Seek Advice from a Birmingham Product Liability Attorney 
The above are examples of common product recalls, and the related information is intended to provide information that can be used to protect yourself and your family from injuries caused by defective products. However, knowledge about common types of recalls and routine checks of product recall lists may not be sufficient to prevent harm since consumers often suffer injuries before products are formally recalled. If you, or someone you love, sustained injuries caused by a defective product, you should know that an experienced product liability lawyers at our firm can help victims of defective products seek compensation. Do not hesitate to contact an experienced Birmingham product liability lawyer at Goldasich, Vick & Fulk to find out more about filing a claim.
Sources:
fda.gov/safety/recalls-market-withdrawals-safety-alerts
nhtsa.gov/recalls
cpsc.gov/Recalls