$7,500,000 verdict reached in medical malpractice case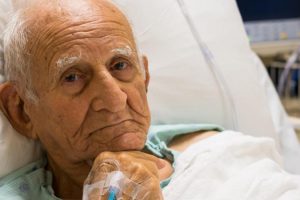 A medical malpractice lawsuit has concluded with a $7.75 million jury verdict for the plaintiff, who suffered a severe pressure ulcer due to medical negligence. The $7.75 million jury award was comprised of a $4 million award to the plaintiff for compensatory damages, $1.5 million award to the plaintiff's wife-turned-caretaker for compensatory damages of her own, and $2.25 million award to both plaintiffs for punitive damages.
The plaintiff, Mr. Webb, was admitted to the intensive care unit (ICU) at Presbyterian Hospital in Albuquerque in 2011, remained in a semi-conscious state for many days, and depended on the medical staff at Presbyterian for all of his care needs. Within only six days, a skin wound had developed on his sacrum due to a general lack of re-positioning of his body while he was unable to re-position himself. Five days later, a wound care specialist examined the wound and found that it had become a severe pressure ulcer.
The plaintiff's attorneys, working together as co-counsel, focused on Presbyterian Hospital's own patient safety policies and procedures for a significant portion of the trial. The hospital's regulations require patients who are at risk for pressure sores to be repositioned once every two hours, or more frequently if necessary, with the specific intent of preventing pressure ulcers from forming. Due to generally neglectful care, Mr. Webb was left in the same position for long stretches at a time. The end result was the formation of a large, painful pressure ulcer that required additional medical treatment, including painful debridement processes that removed skin, flesh, and damaged tissue in large amounts. Mr. Webb's ulcer has still not fully healed.
Jurors that spoke with legal counsel after the verdict was given noted that the multi-million award was not only to fairly compensate the plaintiff but to also reinforce the need of adequate patient safety training at Presbyterian Hospital and other medical groups.
Our personal injury attorneys have a proven track record handling complex medical malpractice cases, having recovered over $48 million in verdicts and settlements on behalf of our clients.
If you or a loved one have suffered a serious injury due to medical negligence, please contact us immediately for a complimentary case evaluation.