Florida jury awards $5.3 million in lawsuit against tobacco giant, Phillip Morris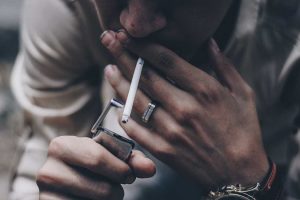 Tobacco giant Philip Morris should pay a suburban Boynton Beach man at least $5.3 million for hiding the dangers of low-tar cigarettes that caused his wife's 2014 death from lung cancer at age 56, a Palm Beach County jury agreed this week.
Brenda Gentile, who started smoking in high school, believed that the cigarettes the tobacco giant marketed as "light" were healthier than old-style ones with no filters and less nicotine, said attorney Eric Rosen, who represented widower Michael Gentile in the nearly two-week-long trial.
Using U.S. Surgeon General reports and the cigarette-maker's internal documents, Rosen showed that the company knew its advertising campaigns were false. Studies showed filtered cigarettes, because of the way they are designed, were actually more dangerous, he said.
Further, Rosen said, Philip Morris' memos showed it marketed certain brands, such as Virginia Slims, to women, knowing they were a lucrative market.
With slogans like, "You've come a long way, baby," it lured young women, like Gentile, to smoke and manipulated nicotine levels in the cigarettes to make sure they didn't quit, he said.
Gentile, a mother of four who supported the family because her husband suffers from multiple sclerosis, died in August 2014 – five months after she was diagnosed with a particularly virulent form of lung cancer.
"It was a tragic story for this family," Rosen said. "She was the rock of the house."
A spokesman for Philip Morris declined to comment on the jury's decision. But cigarette-makers consistently appeal unfavorable verdicts.
The case was different than hundreds of other tobacco lawsuits that have gone to trial throughout the state in recent years. Most of the others, including roughly two dozen in Palm Beach County, sprung from a 1994 Miami-Dade County class-action lawsuit. While a jury in 2000 awarded an estimated 100,000 smokers $145 billion, the Florida Supreme Court in 2006 threw out the award, ruling that each smoker had to prove his or her unique damages at separate trials.
However, the roughly 8,000 people throughout the state who subsequently filed individual lawsuits on behalf of themselves or family members who died from smoking-related illnesses, still benefit from the jury's findings that cigarette companies were negligent and that cigarettes are dangerous.
Since Gentile wasn't a member of the class, Rosen and his law partner, Robert Kelley, had to prove that Philip Morris misrepresented the dangers of smoking.
The jury unanimously agreed that the company "intentionally and with fraudulent purpose" misrepresented both the dangers and addictive nature of smoking and the dangers of low-tar cigarettes.
While they awarded Michael Gentile $7.1 million, they also found his late wife 25 percent responsible for her own death because she didn't stop smoking even though health warnings have been on cigarettes packs since the early 1960s – nearly a decade before she started smoking. That means the amount Philip Morris would be forced to pay would be reduced by 25 percent to roughly $5.3 million.
However, Rosen said, a case pending before the Florida Supreme Court could change that. The state's highest court is being asked to let people recover the full amount of a jury verdict if they prove the negligence was intentional. A favorable decision, which is expected soon, could help Michael Gentile and others who have successfully sued cigarette-makers to recover the full amount of a jury verdict even if they or their loved ones were held partially responsible for their own injuries, Rosen said.
Tobacco Injury Lawyers
If you or a loved one have suffered a serious injury as a result of smoking, call Goldasich Vick and Fulk at (205) 731-2566 for a free case evaluation.
Contact us today if you have suffered any medical challenges including the following:
Emphysema
Heart disease
Lung cancer and other tobacco-related cancers
Smoking-related stroke
Rheumatoid arthritis, tooth loss, cataracts, diabetes and many other health problems
Getting justice and compensation from large tobacco companies can be challenging. We can help. Contact us today.