Previously sealed documents show Johnson & Johnson knew of Talcum powder dangers in 1970s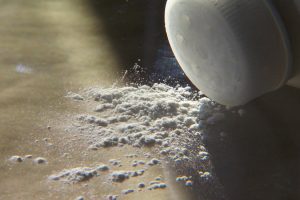 Plaintiffs pursuing talcum powder lawsuits in Missouri state court claim that newly unsealed documents show that Johnson & Johnson has known since the 1970s that its talc-based powders contained asbestos fibers, which could increase the risk of ovarian cancer in women who used the products for daily feminine hygiene. (Case No. 1522-CC10417, Circuit Court, City of St. Louis, Missouri)
According to Bloomberg.com, the documents were unsealed earlier this month in Missouri's 22nd Circuit Court for St. Louis, where more than 1,000 plaintiffs accuse Johnson & Johnson of failing to warn consumers of the ovarian cancer risk allegedly associated with its Baby Powder and Shower-to-Shower products.
The unsealed documents include a May 1974 memo authored by an official at the Johnson & Johnson's Windsor mine that recommended "the use of citric acid in the depression of chrysotile asbestos" from talc extracted from the site to "provide protection against what are currently considered to be materials presenting a severe health hazard and are potentially present in all talc ores in use at this time."
In a 1973 report, a Johnson & Johnson official noted that sub-trace quantities of two types of asbestos had occasionally been identified in the company's talcum powder, and that "these might be classified as asbestos fiber." The report also indicated that another Johnson & Johnson official had suggested that the company switch from talc to cornstarch out of concern that asbestos may have tainted the talc used in its consumer products.
Talcum Powder Lawsuit Verdicts Court records indicate that Missouri is scheduled to convene its sixth talcum powder ovarian cancer trial on October 16, 2017. Four Missouri juries have already awarded talcum powder plaintiffs compensatory and punitive damages ranging from $55 million to $110 million. Only one jury has found for Johnson & Johnson.
More than 5,000 talcum powder lawsuits have been filed against Johnson & Johnson in courts nationwide. California's first talcum powder trial concluded last month in Los Angeles Superior Court, with the jury awarding $417 million, including $340 million in punitive damages, to a woman with terminal ovarian cancer. (Case No. BC628228)
Women who were diagnosed with ovarian cancer following the long-term use of talc-based powder for feminine hygiene purposes may be eligible to file their own talcum powder lawsuit.
Free Talcum Powder Case Review
Goldasich & Associates is offering a free legal case review to women who were diagnosed with ovarian cancer that may be associated with Johnson & Johnson's Baby Powder and Shower-to-Shower products.