What You Should Know About Electrical Injuries On Construction Sites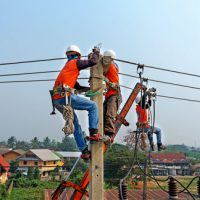 Construction sites in and around Birmingham pose a variety of risks to construction workers. While most construction accidents can be avoided with appropriate safety measures, such as training and protective equipment, serious and life-threatening injuries continue to occur at construction sites in Alabama. Electrical injuries are particularly common on construction sites, and the U.S. Centers for Disease Control and Prevention (CDC) identifies electrocutions as one of the "focus four hazards" that occur in construction, with construction workers being four times more likely to be electrocuted than workers in other industries. What do you need to know about electrical injuries on construction sites and seeking compensation for injuries? Our Birmingham construction accident lawyers can provide you with more information.
Understanding Electrical Injuries 
What is an electrical injury, and how does it happen? According to MedlinePlus, an electrical injury is "damage to the skin or internal organs when a person comes into direct contact with an electrical current." In some cases, contact with an electrical current can result in fatal injuries. For construction workers, electrocutions are a common workplace hazard. Injuries that can result from contact with electrical current include:
Cardiac arrest and heart issues;
Internal injuries that may include damages to the muscles, nerves, or tissue;
Thermal burns due to direct contact with the electrical current; and
Brain injuries or broken bones caused by falls that result from contact with the electrical current.
Causes of Electrical Injuries on Construction Sites
The type and strength of voltage, contact time with an electrical current, and a person's overall health can contribute to the severity of an electrical injury. What circumstances can lead to electrical injuries on construction sites? Construction workers can be exposed to electrical currents that result in these serious and life-threatening injuries due to the following:
Contact with an overhead, high-voltage power line, which often occurs when a construction worker is doing roofing work on scaffolding;
Hitting an underground line while doing excavation or trenching work;
Exposure to an ungrounded power tool or machine;
Electric arcs from high-voltage power lines near a construction site; or
Getting struck by lightning. 
 Types of Construction Workers at Greatest Risk of Electrical Injuries 
Some construction jobs are more dangerous than others, particularly when it comes to risks associated with electric shocks and electrocutions. The CDC cites the following types of occupations on construction sites and in construction zones where electrical injuries are most likely occur:
Power-line installers;
Electricians;
Telecom-line installers;
Roofers;
Heat and A/C mechanics;
Foremen;
Laborers;
Truck drivers;
Brickmasons;
Plumbers;
Painters; and
Carpenters.
Contact a Birmingham Construction Accident Lawyer Today 
Depending upon the circumstances of the electrical injury, it may be possible for an injured construction worker to file a workers' compensation claim or to file a lawsuit against a liable party. One of the dedicated Birmingham construction accident attorneys at Goldasich, Vick & Fulk can assess your case for you today and discuss your options for seeking financial compensation.
Sources:
blogs.cdc.gov/niosh-science-blog/2019/02/08/electrocution-in-construction/
medlineplus.gov/ency/article/000053.htm