Construction Accident Falls: What To Know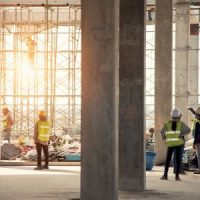 The construction industry is commonly cited as one of the most dangerous areas in which a person can work. Birmingham construction sites pose a variety of risks, and construction workers can suffer debilitating and life-threatening injuries. Much too often, construction workers are killed in preventable accidents on construction sites. Falls are common accidents among construction workers that can result in severe or fatal injuries. Our Birmingham construction accident lawyers want to provide you with more information about accidental falls on construction sites, how these accidents can be avoided, and what you can do in order to seek financial compensation when a fall does occur.
Getting the Facts About Falls in Construction Work 
Falls on construction sites can include falls from heights, same-level falls, slips,  and trips. According to data from the U.S. Bureau of Labor Statistics (BLS), falls caused by slips and trips is routinely the most common type of fall injury on construction sites. However, that number is only slightly higher than the rate of falls from heights to a lower level. Falls on the same level do occur, but they are much less common and less likely to result in fatal injuries
For example, in 2020, there were a total of 371 fatal falls caused by slips or trips in the construction industry. That same year, there were 353 deadly falls to lower levels. In 2019, there were 418 fatal slips and trips that led to falls, and 401 deadly falls from heights to lower levels. These are just the numbers for fatal accidents. In terms of nonfatal falls, there are thousands of accidents each year on construction sites. Moreover, the construction industry has a significantly higher rate than all other industries on average in terms of slips and falls, trips and falls, and falls to a lower level. In short, both nonfatal and fatal falls occur at high rates on construction sites.
Preventing Falls on Construction Sites 
How can falls be prevented on construction sites in Birmingham and elsewhere? According to the Occupational Safety and Health Administration (OSHA), employers should be doing all of the following to prevent all types of falls on construction sites:
Ensuring that every floor hole has a railguard or floor hole cover;
Providing guard rails and toe-board around every construction area that is elevated where construction workers could stand or walk;
Install guard rails and toe boards around any type of machinery or equipment that a construction worker could fall into;
Provide safety harnesses and lines, or safety nets, where appropriate;
Install stair railings and handrails;
Keep floors and walkways in a clean condition that is free from tripping hazards, and in a dry condition to prevent slips and falls;
Ensure that all workers have sufficient personal protective equipment; and
Train all construction workers in fall hazards on construction sites and use of protective or safety equipment.
Contact a Birmingham Construction Accident Lawyer
 If you or someone you love got hurt in a fall on a construction site, you may be able to seek workers' compensation coverage or file a third-party lawsuit. The Birmingham construction accident lawyers at Goldasich, Vick & Fulk can help people who have sustained injuries while working in construction.
Sources:
bls.gov/opub/ted/2022/a-look-at-falls-slips-and-trips-in-the-construction-industry.htm
osha.gov/fall-protection