Confinement and Isolation as Forms of Elder Abuse in Nursing Homes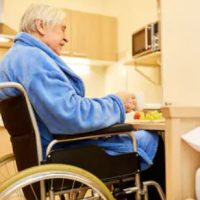 Nursing homes are supposed to provide good care to their residents. Unfortunately, not all nursing homes provide a safe and supportive environment to the elderly. Complaints of confinement, isolation, and other forms of elder abuse are not unheard of in nursing homes.
Any form of elder abuse can have adverse effects on your loved one's physical and mental well-being. If you suspect that your loved one has been a victim of elder abuse in a nursing home, contact our attorneys for help. Our Birmingham elder abuse attorneys at Goldasich, Vick & Fulk, Attorneys at Law, have the expertise and resources needed to fight on behalf of victims and hold nursing homes accountable.
Confinement as a Form of Elder Abuse
Confinement is when an elderly person is intentionally or unintentionally trapped and unable to freely move around. This can take many forms, including being locked in a room or bathroom or being confined to a bed or chair for long periods. Confinement can have serious implications for a person's physical and mental health, such as dehydration, malnutrition, bedsores, and depression. It also violates the elderly person's right to freedom and autonomy.
Isolation as a Form of Elder Abuse
Isolation is another form of elder abuse commonly seen in nursing homes. It can occur when elderly residents are left alone for long periods or restricted from accessing social activities or interactions. Isolation can lead to depression, decreased social skills, and increased mortality rates. Additionally, loneliness can have serious mental health consequences, evidenced by dementia and cognitive decline.
Warning Signs of Confinement and Isolation
Unfortunately, elder abuse is not uncommon. According to the National Council on Aging, an estimated one in 10 elders in the United States experience some form of elder abuse.
Family members and caregivers must recognize the signs of confinement and isolation to address the problems promptly. The warning signs for confinement include a lack of physical activity, confusion or disorientation, unexplained weight gain or loss, social withdrawal, and bruising or other physical injuries, among others. Isolation may present in symptoms such as a reluctance to speak or express personal opinions, anger, and resentment.
Can You Sue a Nursing Home for Confinement and Isolation?
If a nursing home staff member is engaging in acts of confinement or isolation, several legal options can be considered, including filing a complaint with the state regulator or suing the nursing home in court. Family members might also be able to bring claims for damages if their loved one is harmed because of abuse or neglect, although this can depend on the precise laws of the state where the incident occurred, which is why you may want to consult with a local attorney in your area.
Examine Your Legal Options with an Attorney
Caring for the elderly in a nursing home can present various challenges that require significant time and effort from family members and caregivers. If you are worried that your loved one may be subject to any form of elder abuse, such as confinement or isolation, you might want to seek immediate legal action. Our attorneys at Goldasich, Vick & Fulk, Attorneys at Law, can examine the facts of your case and help you determine your legal options. Schedule a consultation by calling 205-731-2566.
Source:
ncoa.org/article/get-the-facts-on-elder-abuse