Goldasich proud sponsor of Exceptional Foundation's annual fundraiser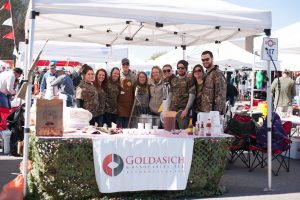 Goldasich, Vick & Fulk was a proud sponsor of the Exceptional Foundation's 13th Annual Chili Cook-Off.
"This is a great local charity doing amazing things right here in our community. We were proud to support this year's Chili Cook-Off and everyone had a lot of fun," said Andrew Fulk.
More than 100 teams brought the heat at the 13th annual Exceptional Foundation Chili Cook-Off this past Saturday, March 4, at Brookwood Village.
All of the proceeds benefit the nonprofit Exceptional Foundation, which provides social and recreational activities to mentally challenged people of all ages in the Birmingham area.
The chili cook-off began in 2005 in the parking lot of the Exceptional Foundation in Homewood, but as the event grew, it moved to Brookwood Village.
The cook-off is the foundation's biggest annual fundraiser, and the 2016 event raised more than $350,000.