Summer Safety: 4 simple tips for maintaining your gas grill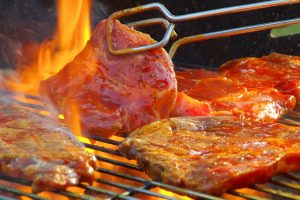 Whether you've been using it all year or haven't touched it in months, you should give your grill the once-over before the holiday weekend. Use these maintenance tips to help keep your grill in top shape or to spot problems that aren't worth fixing.
1. Test for Gas Leaks
Mix a small amount of dishwashing liquid and water in a spray bottle and spray over connections and along the hose. Turn on the tank, or if there's no tank, the natural gas line. Bubbling along the hose means a new one is needed. If bubbling occurs at the connection, tighten it.
Quick tip: Hairline cracks or tiny holes can be hard to spot by just looking, so soapy water is a must.
2. Check Burner Tubes or Ports
Yellow or uneven flames or heat can mean it's time to clean the burner tubes or ports (a toothpick can help clear burner holes). But if that doesn't solve the problem or you spot corrosion or rust, then it's time for new burners, which usually cost from $40 to $150.
Quick tip: Burners are the most frequently replaced grill part. Before buying new ones, check whether yours are still under warranty. Some are covered for 10 years or longer.
3. Inspect the Firebox
Remove light corrosion with a stainless-steel brush. But extensive rust or cracks means it's time to buy a new grill.
Quick tip: The firebox often collects grease and food that has dropped through the grates. Clean the drip pan and remove grates and burners to clean the firebox. Your owner's manual will suggest appropriate cleaning solutions. Replace corroded or cracked drip pans. Don't try to get away with lining them with aluminum foil, which can cause grease to accumulate and cause a fire.
4. Clean the Grates
Use a stiff wire brush to clean each side, but skip the soap. Porcelain-coated grates require a nylon brush. Ideally you should clean grates before grilling, then oil and clean them right after cooking. Porcelain-coated grates rust only if they chip. Replace them when the coating is chipping or flaking, because it can stick to food.
Quick tip: Grates can be expensive to replace. So before you put money into parts, consider how much you paid for the grill, its age and replacement price, and whether the rest of it is in good shape.